The Ultimate Guide to Booster Seats
•
Posted on July 07 2022
Before the booster
Up until now your child has probably used two types of car seats. A bucket car seat that is only rear facing and only used until they are 32lbs or 32in tall (whichever comes first), and a convertible car seat that can be both rear and forward facing. This second seat, which is what you most likely have now, probably has a five point harness and multiple recline positions to accommodate your little one's developmental needs (ie neck strength) and height, as well as a tough outer shell and base that is secured into your car. It is most likely that your child will transition into a booster from this forward facing convertible car seat. Unlike the previous car seats your child has been in up to this point, which are designed to distribute crash force into the structure of the car seat and the five point harness system, all a booster seat does is help to position a seat belt correctly on a child's body so that the seatbelt can do its job of absorbing crash force and not cause life threatening internal injuries in this event. This is why it is considered best practice to leave children in their convertible car seat as long as possible, per the limitations set out by the manufacturer. 
So... When ARE they ready?
Most booster seats require children to be at least 4 years of age and 40 pounds to use them. Please check the label and instruction manual of the booster seat. However, it is safest to keep kids in harnessed car seats as long as possible. Most harnessed (convertible) car seats are able to accommodate children up to 65 pounds. 
- Age:
As stated above most booster seats require children to be 4 years or older. Massachusetts state law requires that your child be secured in a federally approved belt-positioning booster seat until 8 years of age or is over 57 inches (4 feet, 9 inches) tall. However laws differ by state so best practice is considered using the car seat until the maximum limit set by the manufacturer. 
- Height: 
Height requirements for different booster seats vary but the absolute minimum height a child can be is 35in tall. A good way to tell if a child is the right height for the booster seat is if they can have their back against the seat and have their knees ben comfortably over the cushion. The seat belt should also sit comfortably below their ear.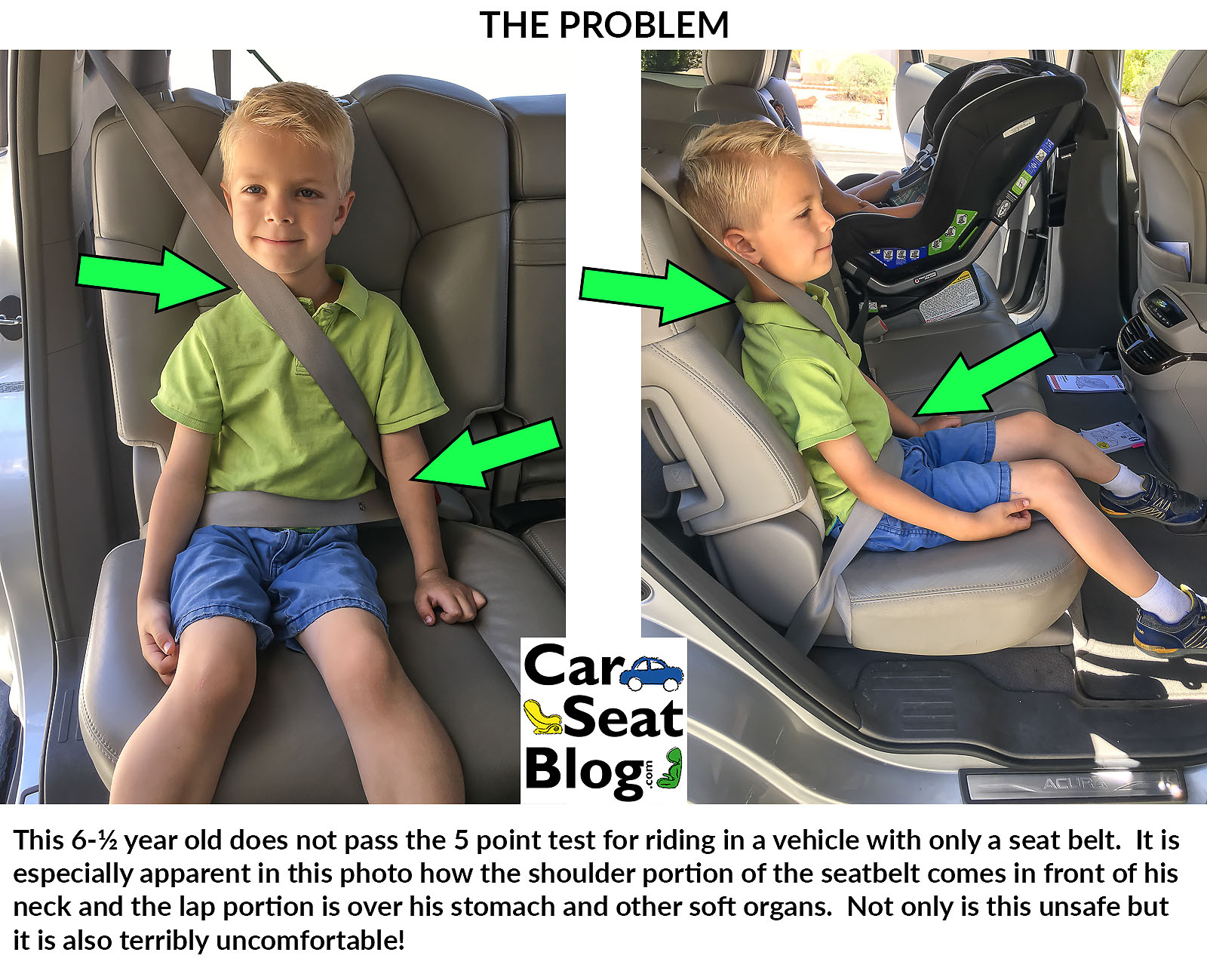 - Weight: 
Most booster seats require children to be at least 40 pounds and can be used up to 80 pounds. However these numbers may differ per manufacturer so we always recommend checking before you buy. 
- Maturity:
Probably one of the most important factors in whether or not your child is ready for a booster seat is their maturity level. Is your child ready and able to sit properly in a booster seat the whole ride? We ask caretakers to honestly consider this aspect. Will they put the shoulder belt behind them or be able to keep it properly in place? Will they slouch over? If you believe your child is ready for a booster seat but on the younger/less mature side we would recommend starting out with a booster seat that has a back. This gives the child a more supportive headrest which helps them avoid slouching and encourages proper posture. 
The Best Boosters aka Tadpole's Top Picks
We definitely have some best selling booster seats here at Tadpole. Below are our top picks for 2022! 
Clek Oobr is a full back booster seat that is built just like the seat in your car but sized for a child. Its metal sub-structure, Rigid-LATCH system and unique recline feature bring new "firsts" to booster seating.
Oobr is tailored in GREENGUARD Select Certified Crypton Super Fabrics, which provide permanent protection against stains, moisture and odor-causing bacteria; and free of brominated and chlorinated flame retardants (except for drift and leathers).
Child height/weight & Age - Full Back Mode
38-57 in., 33-100 lbs., 4+ years
Child height/weight & Age - Full Back Mode
40-57 in., 40-100 lbs., 4+ years
Collisions happen from all angles. Oobr's exclusive Elemental Safety System was engineered with front, rear and side impact protection in mind. Comprised of five structural safety elements, the Elemental Safety System systematically secures and protects your child.
Belt Guides
Improves belt positioning on your child's hips and shoulders (shown in red).
Energy-Absorbing Foam Layer
Absorbs energy in a side impact collision resulting in less force transferred directly to your child.
Structural Headrest with Deep Side Wings
Connects to the magnesium frame using steel rods to reduce twisting movements and improve head protection in a collision.
Magnesium Back Frame
Better contains the torso during a side impact collision and protects against vehicle intrusion.
Rigid LATCH System
Locks the booster seat into place using your vehicle's LATCH anchorage system to provide additional booster seat stability in a collision.
Oobr Safety Highlights
Raises your child 4 in. to improve in-vehicle shoulder belt fit
Better positions the seat belt on the child's hips to improve safety
Locks into place to provide additional booster seat stability in a collision
Confirms that latches are locked with an audible "click"
Provides a secure connection even when booster seat is not occupied
Meets all Federal Motor Vehicle Safety Standards and Canadian Motor Vehicle Safety Standards
Rated a "Best-Bet" for six consecutive years by the Insurance Institute for Highway Safety
It's streamlined, customizable and as beautiful as a booster seat gets. AACE grows comfortably with your child and even converts to a no back booster. It also exceeds American safety standards—the only thing about it that's overdone. Join the grow-volution.
3D Growth System (see below)
2-in-1 design
customizable recline with one-hand, 9 position headrest
side impact protection (SIP) pods
comfy, built-in arm rests
included dishwasher-safe cup holder
included AACE starter kit
The 3D Growth System is...
grow up

 

| one-hand, 9 position height adjustable headrest
grow out

 

| shoulder system works simultaneously with the headrest, expanding out while growing up
grow on

 

| seat sports 3 depths giving growing legs plenty of support and space
converts from a high back to a no back booster
energy absorbing foam and SIP pods take side impact security to the next level
lower anchor connectors allow for 8 position recline in high back mode & easily secure car
seat to vehicle seat during use or transport
belt positioner aids in correct shoulder belt routing and minimizes user error
colored belt path indicators help decrease risk of user error
ventilation panels within the shell and breathable (and washable!) knit fabric create a comfy
climate for even the longest of trips
Specifications:
recommended use for high back booster: 40 to 110 lbs | 38 to 60 in., suggested usage 4 years +
recommended use for no back booster: 50 to 120 lbs | 38 to 60 in, suggested usage 5 years +
overall seat dimensions (highest position): 33"H x 22.5"W x 15"D
overall seat dimensions (lowest position): 26"H x 21.5"W x 15"D
product weight: 15.6 lbs.
Clek Olli is an award-winning LATCHing backless booster. With its integrated rigid-LATCH system, the Olli securely fastens to your vehicle's lower anchors providing additional stability in a collision and a consistent belt fit every time. It says to the 6-12 year-old that it's still cool to be safe in the car. The Olli is easily transportable from vehicle to vehicle and especially handy while traveling.
The drink-thingy detachable cup holder will come in handy on those long rides.
Olli is tailored in GREENGUARD Select Certified Crypton Fabrics.
Height: 40"-57"
Weight: 40-120 lbs.
Recommended age: 4+ years
Graduating to "Big Kid" Status
We all know they grow up SO fast. The next thing you know they'll be ready to graduate from their booster seat to sitting in the car like a "Big Kid". But when exactly is that? Rules for this vary state to state but in our local state of Massachusetts they must be in a booster seat until they are 8 years old OR 57in tall. A good rule of thumb though is that with their back against the seat and their legs hanging over the cushion edge comfortably the seat belt is properly positioned across their chest (not choking them) and the lap belt hits the appropriate position (their hips). We hope this article was helpful and if you have any more questions feel free to shoot us an email at info@shoptadpole.com or stop by. We hope to see you soon and happy booster seat shopping!
Nuna Rava vs. Nuna ...

With its unique 360 rotation feature, the Nuna Revv Convertible Car Seat has impressed many parents but with it's bulkier profile it might not be ...

Read More

Nuna Pipa Urbn Car ...

Are you in the market for a car seat and stroller combo that offers both safety and convenience? Look no further than the Nuna Pipa Urbn car seat ...

Read More

Best Bedside Bassin...

Choosing the right bassinet for your baby can be a daunting task. With so many options on the market, it can be difficult to know which one will b...

Read More